Housing Forward works to amplify the voices of those with lived experience. There are several opportunities for an individual with lived experience can lend their voices and knowledge to amplify the needs and provide relevant solutions for the homeless response system.
The Homeless Alliance Forum is a space where neighbors who have experienced homelessness can come and share feedback on their experience with the homeless response system and learn more about resources in the community and how to access them. We meet every month on the 3rd Friday to explore a different topic as a resource in addition to our monthly priority, which is to amplify the voices of those with lived experience and provide a safe space to provide critical feedback to make our system work best for those who need it most.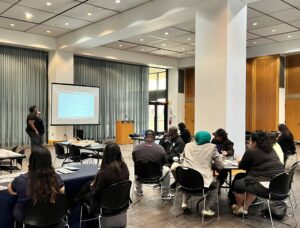 The Youth Action Board (YAB) is a space where we can amplify the voices of youth with lived experience and help center youth in planning and decisions affecting not just youth, but our entire homeless response system. The mission of the Youth Action Board (YAB) is to lead the way towards a future free from homelessness, advocate for all youth, and provide a safe space for youth to feel VALUED and HEARD.
Members must be between the ages of 16-24

Previously or currently experiencing homelessness

Must be available to commit to attending meetings (minimum of

4hrs/month)
Lived Experience Coalition
The Lived Experience Coalition (LEC) is an opportunity for people who have experienced being unhoused to share their insight and help improve the homeless response system in Dallas and Collin Counties by lending their expertise during regularly scheduled meetings.
Neighbors who are or have experienced homelessness can apply to be in the Lived Experience Coalition (LEC)
Members will serve for a 2 year term

Must attend regular meetings (frequency TBD)
Inquire For More Information
Contact us today to talk with a Housing Forward staff member about the best way you can get involved and influence our homeless response system.