Attention: Starting Monday, September 26th, check pickup will be located at 3000 Pegasus Park Dr. STE. 1020, Dallas, TX 75247
Additional Information & Updates
Submit a flex fund request
One request per submission. If your client needs two payments, they must be in separate requests.
All documents are required for submission. If you are unsure what is required for your type of request, please see the FAQ below.

Check Pick Up: Tuesday and Thursdays from 11am-3pm
Requests may take up to 3-5 business days to process.
Attention: Starting Monday, September 26th, check pickup will be located at 3000 Pegasus Park Dr. STE. 1020, Dallas, TX 75247
Custom questions and requirements for your specific type of request
Increased security for survivors of domestic violence
Streamlined submission process – no logging in!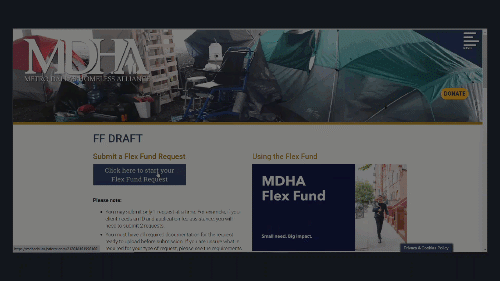 Frequently Asked Questions
Please contact us for questions or more information if you cannot find what you need in the FAQ below: flexfunds@housingforwardntx.org